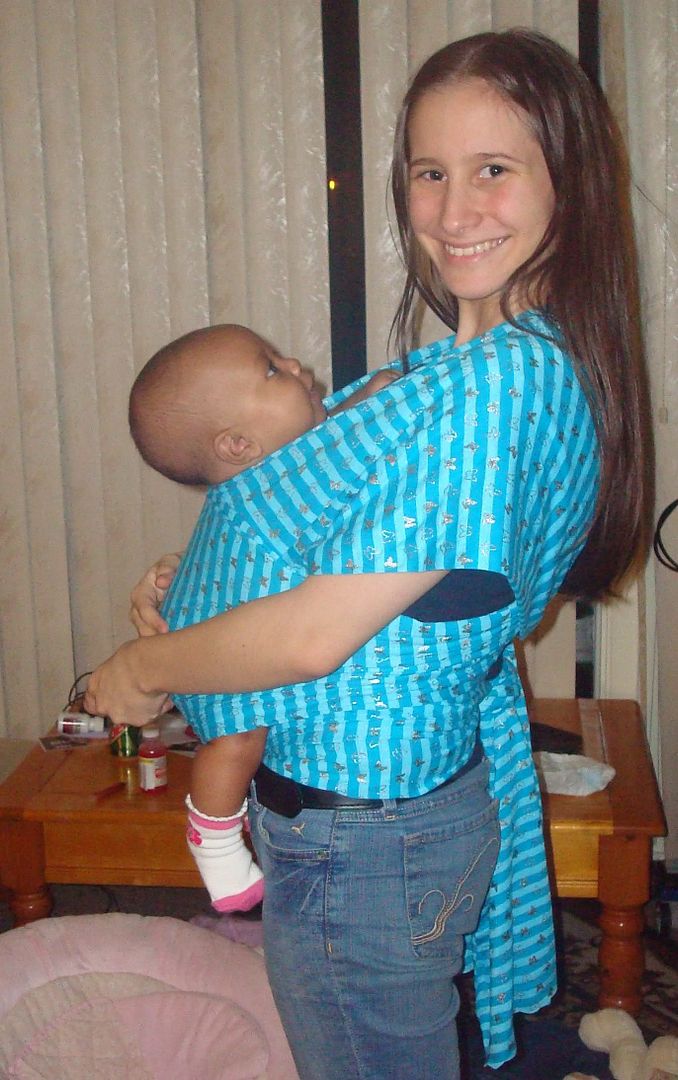 Good day for me. Good day for babywearing. Good day for cloth diapering.
Well, the morning didn't start out great. Had to take Miss Mercy in to get her shots, which is never pleasent, but she did great. The rest of the day was pretty good.
I went out for a day on the town with a friend and her baby. I brought two wraps with me, because I was assuming that she didn't really know about them and figured she might enjoy it and that just maybe I'd be able to convert her. We got to Babies R Us and I asked her if she wanted to try, and then helped her tie it and load up the baby. We walked around and did our shopping. We were getting asked left and right about the wraps and where we got them (both made by me), how they worked, and being told how cute they were. It was awesome. Then when we went to the fabric store I found some ridiculously cute fabric and snatched it up to make some more wraps out of. I'm in love. My whole reason for getting more fabric was to make a wrap for a friend, but it might "get lost in the mail". I dont know if I'll be able to give it up. I'll post pics tomorrow when I *hope* to finally put up the "How to Make a Wrap" tutorial I've been promising. At all our stops my friend wore her baby, and then asked me to make her a wrap, so she bought some fabric and I did. Meet Jessica and Janiyla, proud new babywearing converts.
I've decided to start cloth diapering. Well, kind of cloth diapering. I am switching to
gDiapers
, which were introduced to me by several awesome ladies from Babycenter. When I was at Babies R Us, the starter kit was on sale so I grabbed one. We didnt get home til late, and with Mercy being cranky from her shots today it didn't seem like the ideal time to start, plus I want to give it all its glory and get proper pictures and give it its own entry, so we will be starting our adventure as gMum and gBaby tomorrow. I am very excited about it!