We have added a few more solids to our palate, broccoli and bananas. So far we are up to: (in order of introduction) cucumber, raw carrots, avocado, cantaloupe, broccoli, and bananas. The raw carrots are good for soothing her teething pains, other than that the cantaloupe and broccoli seem to be preferred, but mainly for playing. I'm starting to think that she might not fully be ready for solids, or may have texture aversions. When she gets a bite in her mouth she makes a grody face and spits it out, sometimes gagging and spitting up even. :(
Sitting with Grandma, tasting broccoli for the first time.
She wasn't entirely sure which end she was supposed to be eating, and wasn't crazy about the taste, but she did enjoy playing with it!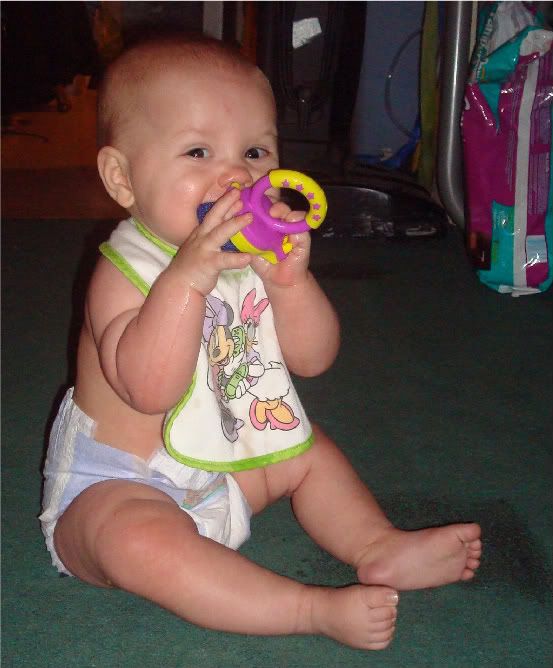 We also (finally) got her a mesh feeder, so I don't have to worry as much about choking. She seemed to have fun with it, but it also kind of frustrated her. We tried with cantaloupe in it since she enjoyed sucking the juice out. This way she didnt have to worry about any of the pesky stuff actually getting in her mouth. She enjoyed it, and it wasn't as messy as I expected it to be. She still had sticky little hands, and even a sticky head from when she was flapping her arms and bonking herself with it. Silly kid.
I leave you with one last broccoli face picture. Just because its cute.